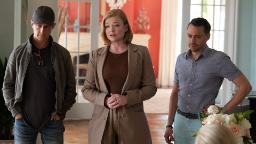 CNN
 — 

"Succession," the king of prestige TV, is returning this March – its acid-tongued dialogue, family infighting and meme-worthy moments intact.
HBO's latest trailer for "Succession's" fourth season pits three of the Roy siblings (minus, Connor, of course) against their father, the unbeatable titan Logan Roy. When we last left them, Shiv's husband, the typically feeble Tom Wambsgans, fed Logan information that may effectively block the siblings from ever succeeding their father as head honcho of the family company. (HBO and CNN share parent company Warner Bros. Discovery.)
The Roy children vying for Logan's job (and his love) has always driven the action on the show, but it's the interpersonal drama that keeps us glued. The trailer sees Tom ask Logan if they'd continue to be partners if he and Shiv were to "bust up." The Roy patriarch responds ominously: "If we're good, we're good." Nothing like screwing over one of your children to team up with her spineless partner. (And shortly after she confessed she didn't "love" him, at that – no "Succession" character has both a healthy personal life and business success!)
Also seen in the brief trailer: Alexander Skarsgård as tech CEO Lukas Matsson, Shiv marching methodically through a newsroom, Connor and Willa seemingly tying the knot (another "Succession" wedding!) and number-one son Kendall walking ominously toward the ocean (he's got a weird thing with water).
It's just titillating enough to keep us excited until March without revealing too much of the plot that will undoubtedly fuel the digital water cooler this spring. Some lingering questions we have from the trailer:
Will Shiv and Tom split?

Which of the siblings will flip back to Logan's side?

Will the deal with Matsson succeed?

Will Roman continue to sexually harass Gerri?

Has Greg sold his soul for good after siding with Tom at Caroline's wedding? There's gotta be some good left in that gangly man, right?

Is Willa really going to go through with her marriage to Connor, and has Connor renounced his dream of the presidency?

Will Kendall make it through the season in one piece?!
The acclaimed drama returns just in time to fill the vacancy left by HBO's apocalyptic game adaptation, "The Last of Us," whose first season will conclude in March. "Succession" Season 4 premieres March 26.