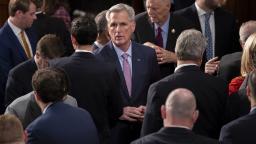 CNN
 — 

Fewer than one-third of Americans believe that House GOP leaders are prioritizing the country's most important issues, according to a new CNN Poll conducted by SSRS. Neither party's congressional leadership earns majority approval, and Republicans are particularly likely to express discontent with their own party leadership.
Just 27% of US adults say they think Republican leaders in the House have had the right priorities so far, while 73% say they haven't paid enough attention to the country's most important problems. A 59% majority disapprove of the way Democratic leaders in Congress are handling their jobs overall, while a broader 67% disapprove of Republican leaders in Congress.
The GOP's ratings are weighed down by relatively high dissatisfaction within their own party: 42% of Republicans and Republican-leaning independents disapprove of their party's congressional leaders, compared with the 22% of Democrats and Democratic leaners who disapprove of their party's congressional leadership.
Nearly half of Republicans and Republican-leaning independents, 46%, also say their party's House leadership hasn't displayed the right priorities. By contrast, in CNN's October polling, only 34% of Democrats and Democratic-leaning independents said that President Joe Biden had the wrong priorities, with 65% of the public overall in that survey viewing Biden as failing to address the nation's problems.
A similar dynamic plays out in the views of individual party leaders, with Democratic-aligned Americans' view of House Minority Leader Hakeem Jeffries (42% favorable, 6% unfavorable) more positive than Republican-aligned Americans' opinion of House Speaker Kevin McCarthy (35% favorable, 18% unfavorable).
Americans overall hold a negative view of McCarthy (19% favorable, 38% unfavorable) and are split in their views of Jeffries (21% favorable, 22% unfavorable), although many have yet to form opinions: 43% express no opinion toward McCarthy, and 57% have no impression of Jeffries. Both men's favorability ratings now remain almost identical to where they stood in CNN's December polling, prior to McCarthy's prolonged, public battle to secure the speakership earlier this month.
Most of the public, 60%, expects congressional Republicans to have more influence than Biden over the direction the nation takes in the next two years. That's similar to the 56% of Americans in January 2011 who anticipated that Republicans' takeover of the House would give the GOP more sway than then-President Barack Obama, although expectations for Obama's influence rose later in the year. In the latest poll, Republicans and Republican leaners, despite their relative unhappiness with their leaders, see their party as likelier to have the louder voice: About three-quarters (72%) expect the GOP to wield more influence than Biden, while only about half of Democrats and Democratic leaners (51%) see Biden as likely to drive the national direction over the next two years.
Asked to name the most important issue facing the country, nearly half (48%) of Americans cite economic issues, particularly related to the effects of inflation on housing, food and gas prices. Other top concerns include immigration (11%), gun violence and crime (6%), government spending and taxes (6%) and political divisions or extremism (5%). Covid-19, which topped the public's list of issues at 36% in the summer of 2021, was mentioned by only 1% of the public in the latest survey.
Although the economy is a top concern among members of both parties, other priorities differ. Immigration is the top issue for 18% of Republicans and Republican leaners, compared with 7% of Democrats and Democratic leaners; conversely, 10% of Democratic-aligned Americans cite gun issues or crime, compared with 3% of those aligned with the Republican Party, with much of that difference between the two parties coming in the share citing gun control specifically (7% on the Democratic-leaning side name gun control as a top issue, compared with 1% among Republicans and Republican-leaners).
Americans' outlook on the US remains generally bleak: 70% say things in the country are going badly, an uptick from 65% in December. Much of that shift comes from rising pessimism among Democrats: 58% now say things are going badly, a 16-point rise from last month.
But while public discontent with the state of the nation remains widespread, the severity of Americans' unhappiness appears to be abating. Just 15% say that things in the country are going "very badly," down from last year's peak of 34% during the summer and lower than at any time since May 2018.
The CNN Poll was conducted by SSRS from January 19-22 among a random national sample of 1,004 adults drawn from a probability-based panel. Surveys were either conducted online or by telephone with a live interviewer. Results among the full sample have a margin of sampling error of plus or minus 4.0 points; it is larger for subgroups.