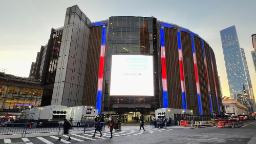 CNN
 — 

The chief executive of the Madison Square Garden Entertainment Corporation has doubled down on using facial recognition at its venues to bar lawyers suing the group from attending events.
Speaking to Fox 5 on Thursday, MSG Executive Chairman and CEO James Dolan said Madison Square Garden is a private company and therefore entitled to determine who is allowed to enter its venues for events.
"At Madison Square Garden, if you're suing us, we're just asking of you – please don't come until you're done with your argument with us," he said. "And yes, we're using facial recognition to enforce that."
His comments come after New York Attorney General Letitia James on Wednesday sent a letter to MSG Entertainment requesting information regarding its use of facial recognition technology to prohibit legitimate ticketholders from entering venues. The letter said the attorney general's office has reviewed reports MSG Entertainment has used facial recognition to identify and deny entry to multiple lawyers affiliated with law firms involved in ongoing litigation with the company. The letter indicates thousands of attorneys from around 90 law firms may have been impacted by the policy, and said the ban includes those holding season tickets.
The attorney general's letter raised the concern that banning individuals from accessing venues over ongoing litigation may violate local, state, and federal human rights laws, including laws prohibiting retaliation. The letter also questions whether the facial recognition software used by MSG Entertainment is reliable and what safeguards are in place to avoid bias and discrimination.
In a press release, James said, "MSG Entertainment cannot fight their legal battles in their own arenas. Madison Square Garden and Radio City Music Hall are world-renowned venues and should treat all patrons who purchased tickets with fairness and respect. Anyone with a ticket to an event should not be concerned that they may be wrongfully denied entry based on their appearance, and we're urging MSG Entertainment to reverse this policy."
MSG Entertainment owns and operates several venues in New York, including Madison Square Garden, Radio City Music Hall, the Hulu Theater, and the Beacon Theatre. Madison Square Garden is the home of the New York Knicks, Rangers, professional boxing, and college basketball teams.
In a statement Thursday, an MSG spokesperson told CNN, "To be clear, our policy does not unlawfully prohibit anyone from entering our venues and it is not our intent to dissuade attorneys from representing plaintiffs in litigation against us. We are merely excluding a small percentage of lawyers only during active litigation."
"Most importantly," the spokesperson added, "to even suggest anyone is being excluded based on the protected classes identified in state and federal civil rights laws is ludicrous. Our policy has never applied to attorneys representing plaintiffs who allege sexual harassment or employment discrimination."
In the Fox 5 interview Thursday, Dolan said when the attorneys suing MSG finish their litigation, they will be welcome back to the venues. "If your next door neighbor sues you, if somebody sues you, right, that's confrontational. It's adversarial and it's fine, people are allowed to sue," he said. "But at the same time, if you're being sued, right, you don't have to welcome the person into your home, right?"
Dolan defended the use of facial recognition technology, saying it's useful for security and noting that he believes Madison Square Garden to be one of the safest venues in the country. "Basically, anytime that you go out in public, you're on camera," he said. "Believe me, you walk down the street, you're on camera, you're on 10 cameras. What facial recognition does is looks at, you know, recognizes your face, and says you know, are you someone who's on this list."
Dolan claimed the State Liquor Authority has threatened MSG's license over its use of facial recognition technology. CNN has reached out to the New York State Liquor Authority for comment. During the Fox interview, Dolan apparently threatened to shut down sales of liquor during an unspecified upcoming New York Rangers game, and said he would direct any upset patrons to the liquor authority to complain.
Dolan also pushed back at the suggestion that he's being "too sensitive."
"The Garden has to defend itself," Dolan said. "If you sue us, right, you know we're going to tell you not to come."