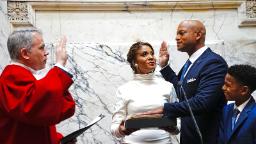 Editor's Note: David Gergen has been a White House adviser to four presidents of both parties and is a senior political analyst at CNN. A graduate of Harvard Law School, he is a professor of public service at the Harvard Kennedy School and co-founded its Center for Public Leadership. The views expressed in this commentary are his own. View more opinion at CNN.


CNN
 — 

Traveling across the country in recent years, I discovered a sure way to fire up an audience: issue a call to young people for a year of service to others.
"It's called national service," I tell people. "Sometime between the ages of 18 to 24 or so, we offer you an option to spend a year helping others — assisting teachers in classrooms, volunteering in a local hospital, reducing global warming and the like. For every year of service, you will receive not only a base salary, but you will also earn a scholarship to reduce future education debt."
Audiences clap loudly. They know from experience that spending a year or more in a military uniform often stiffens a spine and focuses the mind. It is obvious to most folks that a year of domestic service can have a similar impact.
Polling shows that Americans support national service. A 2017 Harvard Institute of Politics poll found that more than 60% of young Democrats and Republicans favored "a national service program for Americans under the age of 25 that would be linked to student loan forgiveness or other relevant incentives."
Around the world, dozens of countries require some form of service — a list that includes Denmark, South Korea and Israel.
Yet, it has been nearly impossible to translate support for service into large-scale programs here in the United States. Presidents from George H.W. Bush to Bill Clinton to George W. Bush to Barack Obama have spoken warmly of service years but have never come close to implementing what other nations have pulled together.
Every White House has had higher priorities. Partisanship gets in the way, idealism dims. Service years seem just out of reach.
Until now!
From the day of his massive election victory this past November, Wes Moore has emerged at the age of 44 to be one of the most promising young leaders in the country.
He is not only the first Black man to be elected governor of Maryland; he is the only third to be elected governor of any state in US history. More to the point, he is inspirational, recalling the early days of Presidents John F. Kennedy and Barack Obama.
During his recent campaign, Moore often talked about the importance of service to others but it's hard during any campaign to evaluate how sincerely committed a candidate will be once in office.
Well, Moore's inaugural address last week settled it: he is hugely serious. While many details are still to be ironed out, he sent waves of excitement through social change agents as he has pledged three major advances.
First, he promises to ensure that every high school graduate in Maryland has an option to spend a year in service.
Second, students from other states who spend a year in service in Maryland can lower their public college tuition requirements to those of in-state students.
And third, by executive order, he has already created a new cabinet level Department of Service and Civic Innovation.
It is a myth, Moore argues, to believe that the only path to success and fulfillment is to study at an elite university. As Martin Luther King Jr. observed in a 1968 sermon, "Everybody can be great… because everybody can serve. You don't have to have a college degree to serve. You don't have to make your subject and verb agree to serve… You only need a heart full of grace, a soul generated by love."
It was in that same spirit of service that Wes Moore signed up for the US Army at 17 and went on to lead combat troops in Afghanistan in the famous 82nd Airborne. "My years of service transformed me," he said in his inaugural . "My character was strengthened, my vistas were widened, my leadership was tested."
"A year of service will prepare young people for their careers — and provide our state with future leaders: public servants we desperately need."
No doubt, there will be distractions and disappointments ahead for the new governor, who is a Democrat. His incoming administration has a long and demanding agenda on several fronts. Maryland currently incarcerates more young Black men than any other state, according to a recent report from the nonprofit Justice Policy Institute, and has a racial wealth gap of nearly 8-1.
But make no mistake, coming off his rousing inaugural and working with Republicans like Larry Hogan, his popular predecessor, Wes Moore has the potential to do something very special: turning Maryland into a national model for service and leadership.